Sinai/Palestine/Syria
The Palestine Brigade, Royal Flying Corps
The Palestine Brigade consisted of the following squadrons:
Fifth (Corps) Wing
Headquarters — Ramleh
14 Squadron, RFC — Junction Station: 16 R.E. 8's, 3 Nieuports
113 Squadron, RFC — Sarona: 16 R.E. 8's, 5 Nieuports
142 Squadron, RFC, (less 1 Flight) — Sarona: 7 Armstrong-Whitworths
1 Flight — Jerusalem: 5 R.E. 8's
Fortieth (Army) Wing
Headquarters — Ramleh
1 Squadron, AFC (67 Sqn RFC) — Ramleh: 18 Bristol Fighters, 1 Handley Page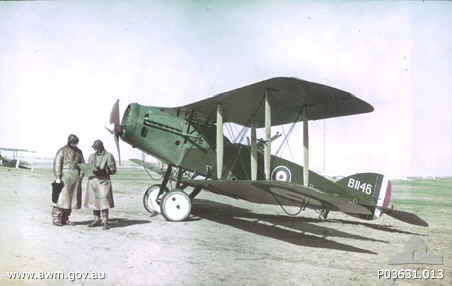 111 Squadron, RFC — Ramleh: 15 S.E. 5a's
114 Squadron, RFC — Junction Station: 13 D.H. 9's
145 Squadron, RFC, HQ and 1 Flight — Ramleh
Fifth Wing and Fortieth Wing — Total Aircraft Numbers
R.E. 8's: 37
Nieuports: 8
Armstrong-Whitworths: 7
Bristol Fighters: 18
S.E. 5a's: 21
D.H. 9's: 13
Handley Page: 1
A total of 105 machines of all types.
Mesopotamia
Mesopotamia Half Flight
Formed Point Cook, Victoria February 1915. Departed Melbourne Morea 20 April 1915. Reinforcements departed Melbourne Persia 10 August 1915. Also known as
Mesopotamia Flight, Indian Flying Corps
and
B Flight, 30th Squadron, Royal Flying Corps
. This unit consisted of 4 pilots and 42 other ranks and was equipped with two Cauildron GIIIs, two Maurice Farman Shorthorns, a Maurice Farman Longhorn and four Martinsyde S1s. One of the pilots was killed in action, and 2 pilots and 9 other ranks were captured by the Turks at Kut. Disbanded March 1916
30 Squadron RFC
Formed officially at Ismailia, Egypt on 24 March 1915 from an RFC detachment in the region.
No. 30 Squadron then formed several detachments to protect key installations in Mesopotamia, including the oil pipeline at Basra.
In April 1916, the Squadron carried out the world's first air supply operation, when food and ammunition was dropped to the besieged British forces attempting to defend Kut-el-Amara against the Turks.
Reconnaissance and bombing then occupied the Squadron until the end of the war, when it was reduced to a cadre in April 1919.
No. 63 Squadron RFC
No. 63 Squadron of the Royal Flying Corps was formed on 31 August 1916 at Stirling, Scotland. The squadron was intended to operate as a day-bomber unit over the Western Front in France, and was therefore equipped with de Havilland DH4 aircraft; however at the last minute the squadron was re-tasked to operate against the Turkish army in Mesopotamia and was re-equipped with R.E.8's for its new mission, when the squadron arrived in the Middle East in August 1917. No. 63 Squadron remained in Mesopotamia for the rest of the war.